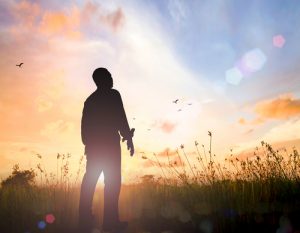 It is truly heartbreaking to watch many of us struggling financially. Those who were come secure in our home are now facing foreclosure. Disease and sickness is affecting every family in some way. We now have a lethal flue that is threatening to become pandemic. Homes are broken as the enemy seeks to destroy the family and deceive our children. Disaster of every kind are reported in countries all over the world with increasing occurrence and severity.
The truth is that Jesus died to give us hope with a promise that He will be with us to the end. We may be hard pressed on every side, perplexed, persecuted and struck down in our life but we can never be destroyed. There now is no power to defeat those whose trust is in the cross of Jesus Christ. Though the world is darkened as evil fills the sky, believers will always have a light to shine on the path they are to take. It is by faith that we know that God will complete the good work that he started in us.
We need unwavering trust to believe and not doubt that Jesus has a plan that
cannot be stopped by the problems of this world. It does not matter how impossible our situation is or how painful our heartache, God knows how to move mountains and part the waters of trouble so that we can get to that place in our life that He has ordained for us long before we were born. The trials and struggles that we face are merely the wind that He uses to transform us into the image of Jesus Christ. God can still save our marriage, give us victory over addictions, heal our body, and restore our finances. There is nothing too hard for Him who first loved us.
"They exchanged the truth for a lie, and worshiped and served created things
rather than the creator who is forever praised."(Romans 1:25)
Bishop Jordan believe that there is nothing good that we can to save ourself but Christ finished the work of our redemption when He gave His life for us. Christ is alive to intercede on our behalf and He has prepared a place for us in heaven. Christ did not die and leave us to fend for our self. Christ is with us now. Christ knows our name. Christ see our face. He hears our voice. God strength is always with us And while others are standing on the sinking sands of a lost earth, we are standing on the promise of Jesus Christ who kill not fail to keep us in the victory that He won. We must stand and believe to the end. We have nothing to fear from this world for citizenship is in heaven, guaranteed by the blood of Jesus Christ.
Learn how to stand in God's promise for you, talk to a prophetic prophet now, and get a free prophecy.