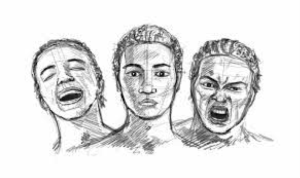 When God speak to you, He speak from your spirits. This is because the Holy spirit  lives in your spirits. That is where the voice will come from. When listening for God's direction do not look for an audible voice. Just listen to what God is saying in our
spirit. Imagine that our eyes are closed and that someone is leading us by the hand. How will know where to go. And sometimes we will sense the Holy Spirit tugging or leading our spirit in a particular direction. We would not necessary hear a voice. We
will just feel impressed in our spirit that we are to do a particular thing.
Master Prophet E. Bernard Jordan believes that God can also put an actual words in our Spirit. It is important to note that the Lord's voice will always come from our spirit, not from our mind or heads. It is because the Holy Spirit lives in our spirit.
There is a simple way to distinguish between our mind and spirit is to realize that the voice of God from our spirit is not is not the product of your own thoughts process. It is also important that we train our self to our spirit so that we can recognize when God is speaking to us from it. "For if I pray in a tongue, my spirits prays, but my understanding is unfruitful." (1 Corinthians 14:14)